Mr. Sturgeon goes to Washington….Again.
By Wayne Heimer, Craig Compeau and Mary Bishop, April 2018.
Alaskan John Sturgeon is headed back to the US Supreme Court.  He's trying to protect Alaskans' rights to use the property that came to us at statehood, namely the right to travel on Alaska's rivers and lakes called "navigable water."  You'd think Alaska's title to navigable water means Alaska could manage travel on Alaska's waterways that can be "navigated."  The feds don't think so.  They want to control what happens on Alaska's navigable waters—including what types of boats can be used when our rivers pass by the National Park Service's land.  John "got into it" with the feds over use of the Yukon River to get to his historic moose hunting spot.  He'd been using a small hovercraft to get there for 25 years when the Park Service "busted" him because they don't like hovercraft.
    Now John Sturgeon needs help from ALL Alaskans.  Please take a blue card and consider making a cash or in-kind contribution to this most important cause.  All funds will go directly to help offset John's massive legal bills which are now approaching 1 million dollars.  Join the fight to help this remarkable Alaskan.
Nobody quite knows where the idea to ban hovercraft on all National Park lands came from.  Folklore holds it originated on the Potomac River as an NPS response to a request to run large hovercraft ferries on the Potomac to relieve traffic congestion in Washington D.C. in 1983.  The Potomac runs between some federal lands so the Park Service got to comment on the permit application, didn't like hovercraft, and banned them on ALL Park Service land by regulation.  It's been a third of a century since the feds made the anti-hovercraft rule, and they've conveniently expanded it from urban D.C. to the Alaska wilderness.
After the feds "busted" Mr. Sturgeon, he went to court and fought them all the way to the US Supreme Court.  He won by an 8-0 decision.  The Supreme Court sent the case back to the 9th Circuit Appeals Court, and told the 9th Circuit to "fix it."
Over what seems to be a control issue, the 9th Circuit didn't "fix" its mistake.  Instead, it "doubled down," claiming federal control over what uses are allowed on Alaska's navigable waters.  In spite of it not being clear what an Alaska resident's moose hunt has to do with interstate commerce, the Circuit Court is hoping to use the "commerce clause" of the US Constitution to expand control over what uses are allowed on the navigable waters of all 50 states.  Essentially, the feds are claiming all navigable waters originating on or flowing through federal lands are really "land" they own and manage.
This isn't the first time lawyers have claimed "water" is "land."   Many years ago when the subsistence issue was being fought out in court, a Native elder named Katie John's lawyers made this same claim.  Katie lost on that count, among three of her four claims, winning on only what was called "reserved federal water rights."  That's basically technical irrigation law and was the basis Mr. Sturgeon won on in his first trip to the US Supreme Court.  The fact that the 9th Circuit now claims Alaska's water is federal land (if it flows past a National Park) could re-ignite the subsistence controversy in Alaska.
Originally, this case was about one guy using a hovercraft to hunt moose on a remote river in Alaska.  Now, it's much bigger than that. It is about the way the feds generate and enforce regulations that might have made sense to them on the Potomac River thirty-five years ago, but don't make sense in the middle of Alaska, or in other states, today.
To donate visit the alaskaoutdoorcouncil.org website.  Fill out the information and choose John Sturgeon legal battle over navigable waters fund (AFWCF-Tax Deductible) under the Donation section.
Ted Steven's Book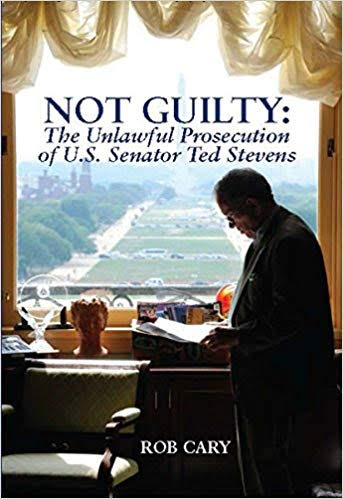 If you never read it, this book is worth a read. Find out what really happened to Uncle Ted by the liberal left. Shameful. Available at Amazon
Maps of ANWR